Books 2008
Has my little flock of readers missed me? Sorry I just up and went vacant on you. Between the holiday activities, family visiting, and tired of hearing myself whine, I just let one day after another slip by without posting. But, waving the last of company away today, the holidays are finally over and I'm feeling both better and ready to move forward into the new year with renewed enthusiasm. I'll post about fun stuff, cute grandkids, lovely gifts, and new year's goals in the days to come. But for now, I want to post about the books I read in 2008.
I made a number of 2008 reading goals for myself and met all but one. I read a variety of genre. I'm in a new book club and despite missing the last couple of meetings, I'm enjoying that. In 2007 I set a goal of 52 books, a book a week, and met that with some effort to catch up at the last minute. For 2008 I pushed that goal to 60 books, 5 books a month, and ended up with.... 52 books again.
I'm not terribly disappointed with coming up short. After all, lots of my friends have lives in which they couldn't fit even half that number into their busy schedules. Plus, even though I didn't make it to my goal, I did read more consistently than I did the year before. I have a half dozen books half read that I've set aside for one reason or another. If I'd wanted to, I could have spent time finishing them all up at the last minute. Or picked some short easy reads in order to reach my own number. I decided it was more important to pick my selections for less arbitrary reasons and in the last month I let go of my goal.
Let's start with my top ten list of favorite reads of the year. It ended up being a top eleven. In no particular order:
The Kite Runner by Khaled Hosseini
Water for Elephants by Sara Gruen - I wouldn't have read this one but it was the book of the month for a book club I thought I'd join (I ended up joining another club instead) but once I started reading it was really hard to stop.
The Girl Who Stopped Swimming by Joshilyn Jackson - three books by this author, three not-to-be missed reads!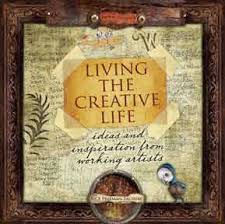 Living the Creative Life by Rice Freeman-Zachary - this one made the list not because it was necessarily a great read in the greater scheme of things. It made the list because it helped me put my own creative goals in perspective, held them up to a good healthy dose of honest without being cynical reality.
Memory and Dream by Charles DeLint - I picked this book to pack when we went to Paris mostly because I somehow happened to have an extra copy of the book and I thought that way I could just leave the book behind in France when I was done reading it and use the extra space in my bag for something else. I didn't end up finishing it until I returned home but it was, in that serendipitous way decisions are nudged by things bigger than ourselves, the perfect book to read in Paris - a book and a city both about artists, writers, and magic.
Merde Happens by Stephen Clarke - I found this British author at Heathrow on the way home from Europe and laughed my way through the long flight home!
Animal, Vegetable, Miracle by Barbara Kingsolver - I really looked forward to reading this but at the same time I was a little worried it would be an unrealistic, romanticized treatise. I was happy to discover it was a poetic but reasonable look at both the joys and struggles of one particular family.
Three Cups of Tea by Greg Mortensen - not necessarily a great literary work, instead a literary look at great work. Since I hadn't heard of Greg Mortensen or his story, it was a powerful story.
Grave Sight by Charlaine Harris - I love Harris' Sookie Stackhouse series. This is the first book in her newer series. I'm really loving it. There's three books in the series so far and I've read the two out in paperpack. I like her gritty writing style and great characters.
Breaking Dawn by Stephenie Meyer - I'm still a little confused by the phenomenon that is the Twilight series. The books didn't jump out at me the way they did for so many apparently. And there were a lot of niggling things that bugged me about the books. Still, this last book in the series makes my top reads list because I was so happy that the author wrapped up all my questions so satisfactorily in the end.
The Eight by Katherine Neville - my friend
Kristen
has been bugging me to read this book for years and I'm thrilled to say it was a great read!
Finally, the full list in order I started reading each -
1. The Kite Runner by Khaled Hosseini
2. Words in a French Life by Kristin Espinasse
3. The Spiritual Gifts of Travel (publisher's compilation)
4. Murder with Puffins by Donna Andrews
5. Murder in Montmartre by Cara Black
6. A Writer's San Francisco by Eric Maisel
7. Water for Elephants by Sara Gruen
8. Drunk, Divorced and Covered in Cat hair by Laurie Perry
9. A Fistful of Charms by Kim Harrison
10. Notes From a Small Island by Bill Bryson
11. Wandering Paris by Jill Butler
12. Swimming Without a Net by MaryJanice Davidson
13. The Curious Case of the Dog in the Night-Time by Mark Haddon
14. Revenge of the Wrought Iron Flamingos by Donna Andrews
15. The Girl Who Stopped Swimming by Joshilyn Jackson
16. Murder on the Ile Saint-Louis by Cara Black
17. The Audacity of Hope by Barack Obama
18. Crouching Buzzard, Leaping Loon by Donna Andrews
19. Living the Creative Life by Rice Freeman-Zachary
20. A Charmed Death by Madelyn Alt
21. We'll Always Have Parrots by Donna Andrews
22. Dilly of a Death by Susan Albert Wittig
23. Memory and Dream by Charles DeLint
24. Merde Happens by Stephen Clarke
25. Owls Well That Ends Well by Donna Andrews
26. Animal, Vegetable, Miracle by Barbara Kingsolver
27. Plain Truth by Jodi Picault
28. New Moon by Stephenie Meyer
29. No Nest For the Wicket by Donna Andrews
30. Garden Spells by Sarah Addison Allen
31. The Penguin Who Knew Too Much by Donna Andrews
32. For A Few Demons More by Kim Harrison
33. Three Cups of Tea by Greg Mortensen
34. The Ice Queen by Alice Hoffman
35. gods in alabama by Joshilyn Jackson (reread for book club)
36. The White Knight by Jim Butcher
37. The Good Fairies of New York by Martin Millar
38. All Together Dead by Charlaine Harris
39. Grave Sight by Charlaine Harris
40. Hiding From the Light by Barbara Erskine
41. Strange Brew by Kathy Hogan Trocheck
42. Grave Surprise by Charlaine Harris
43. Chocolat by Joanne Harris
44. You Are So Dead to Me by Stacey Jay
45. Witch Hunt by Shirley Damsgaard
46. Eclipse by Stephenie Meyer
47. Breaking Dawn by Stephenie Meyer
48. The Witch is Dead by Shirley Damsgaard
49. The Eight by Katherine Neville
50. Wicked Lovely by Melissa Marr
51. A Holly Jolly Murder by Joan Hess
52. The Life and Adventures of Santa Claus by L. Frank Baum
Another half dozen or so made the short list before getting cut from my top reading list. Let's call them the "B" list. I wanted to put Jim Butcher, Donna Andrews, and Cara Black on the list because I'm still really loving their series, but I figured I mentioned them all last year so I'd give some new series the top spots this year.
I don't have any new goals for 2009, only the same ones. To read a variety of books. I'll stick with my 60 book goal and see if I can meet it this year. I've got several series I'd like to reread this year (Harry Potter, Sookie Stackhouse, and Pullman's His Dark Materials to name three) although it's unlikely I can read them all as I've got so many new books I want to read as well.
I wish my friend
Deb
was posting her 2008 List, she always has so many interesting insights. Her past reading lists are a big reason I started to keep a list of my own books. I suspect with a new job she didn't have as much reading time this last year and alas, she appears to be on a blogging hiatus. Anyone else have a reading list for last year? Reading goals for this new year?